Heritage Tram Coastline Tours.
Between Blackpool Pleasure Beach and Little Bispham.
Starting on Good Friday6th April 2012 the Tram Heritage Tours will run every half an hour between 9.30am and 5pm throughout the school holidays, at weekends and on Bank Holidays.
During the Illuminations from 31st August to4th November 2012 the tours will run every 20 minutes on weekdays from 5.00pm to 11.00pm and until midnight at weekends. (Illuminations tours board at the pleasure beach only). At weekends and during the October half term, tours will run every 10 minutes.
You can join the Tour at four special stops across the resort and hop on and off during the day.
Look out for the distinctive Green Circle Heritage Tram Stops..
These are located at Pleasure Beach Loop, North Pier, Uncle Tom's Cabin and Bispham.
Tickets are £10 adults and £5 for children with a special £30 family ticket for up to two adults and three children. This ticket is also valid on all Blackpool Transport Bus Services and the new fleet of modern trams across the whole of the Fylde coast. There will also be a £5.00 senior citizens tickets. These tickets will be available in advance from either Blackpool Transport Rigby Road or Market Street Offices and on the day only on the Heritage trams and only on productions of any UK concessionary pass. These tickets will allow unlimited journeys on the Heritage Tours, but unlike the adult, child and family tickets, the senior citizen tickets will not be valid on buses or the new trams nor be available for sale on those services.
Persons using the Heritage trams should note The legislation for the operation of tramways in the UK has changed. This means that the vintage tramcars that used to run regularly are no longer legally allowed to operate within the normal operation of stage carriage service.
Due to the history of the Blackpool Tramway and its importance to the towns tourism a special act of Parliament has been granted in order for a small number of vintage tram cars o continue to operate on the Tramway providing that the operate on tours only.
As these heritage trams no longer comply with any of the requirements to meet the accessibility regulations that enables them to operate from the stations, they cannot therefore stop at these locations and a small number of ground level boarding stops have therefore been provided. These are located at the pleasure beach turning circle, North Pier, uncle Tom's cabin and Bispham.
It is therefore imperative that visitors understand that they cannot board the Heritage trams at the conventional modern tram stops. They must look out for the special stops marked with a green circular sign an example of which is above.
Heritage Tram Tours Frequently Asked Questions.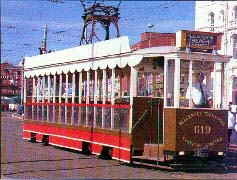 1. Why are the fares so much higher than on the new  LRT (light rail transit) trams?
A. Because the maintenance and operating costs are very much higher. Maintaining and preserving the fleet of vintage trams require specialist engineering skills and so Blackpool transport have to maintain a dedicated team of support staff all year round to work upon them. When you buy Heritage ticket you're actually directly contributing to the ongoing maintenance and preservation of the vehicles that you ride on, enabling future generations to enjoy the unique experience that your parents, grandparents and great grandparents did. Blackpool just wouldn't be Blackpool without its heritage trams.
2. What do I get for my money?
A. A Heritage Tour Ticket enables you to make unlimited journeys on either the Heritage Tours (subject to availability), or the LRT (light rail transit) service and on the entire Blackpool transport bus network.you can buy your ticket in the first Blackpool transport bus, vintage or LRT tram that you board get your money's worth.
3. Can I use my concessionary pass?
A. In line with the terms and conditions of the concessionary fares scheme, concessionary passes are not valid on tours and the operator would receive no re-numeration from the scheme administrators.
4. Can I use my regular travel card or day saver ticket on the Heritage trams?
A. Commercial network tickets are not valid on tours due to the fact that the Heritage tram tours are not part of the public transport network.
5. Where can I buy my ticket?
A. You can buy your ticket either on the day of travel from the first Blackpool transport bus or tram, all advance from either Blackpool transport travel centre at market Street in the town centre or Rigby Road head office, 50 yards inland from the Manchester pub. By mid-summer Blackpool transport also aim to make tickets available to purchase in advance on-line from their website. (www.blackpooltransport.com)
6. What do I ask for when purchasing my ticket?
A. Just ask for a Heritage Tram Ticket.
7. Where can I catch a heritage tram?
A. From any of the following dedicated ground level heritage tram stops: pleasure beach turning loop; North Pier; uncle Tom's cabin or; this. Lookout the distinctive circular green heritage tram stops.
8. Why can't I catch the tours from the mainline LRT stations?
A. Because the Vintage trams are not wide enough to meet the platforms and have a variety of step/entrance designed and loading arrangements they no longer comply with the required legislation and therefore cannot operate in regular stage carriage service. They can now legally only operate as Tours for pleasure, cultural, Heritage, tourism and/or educational purposes.
9. Do Blackpool's heritage trams comply with as accessibility legislation?
A. Regrettably, because of their age and design they do not comply with accessibility legislation. They are therefore not suitable for wheelchairs. They are exempt from legislation for cultural, Heritage, tourism and educational purposes as long as they do not operate as part of the transport network in stage carriage service and on the grounds that a regular fully accessible LRT tram service is operating at the same time. The historic element of the Tramway is seen as an integral part of Blackpool Council's ongoing commitment to ensure that Blackpool can remain a world-class resort, with special emphasis on culture and heritage. In December 2010, Norman Baker MP, under – Secretary of State for transport wrote, 'I recognise that the appeal of those vehicles is in their being in their original form and that they have significant importance for the UK. Many disabled people would continue to be able to travel on these vehicles as they did in the past. With the dedicated boarding sites,all passengers will be aware that their boarding a heritage vehicle is not performing public transport service.
10. Can I bring my journey to do some sightseeing?
A. Yes you can! You may re-board at any of the four heritage strand stops on the tour route subject to vehicle capacity.
11. Are the illuminated feature trams part of the Heritage Fleet and if so, will the store because of the illuminations?
A. Yes to both of those! The Heritage lottery funded Western train, plus the illuminated frigate HMS Blackpool and Fishermans friend trawler will all be very active during the illuminations providing evening tours.the only difference in the operation of the illuminations tour is is all tours will be wholly circular, starting and finishing at the pleasure beach. Boarding will not be permitted at any of the intermediate stops on the route. A lighting will however be permitted at North Pier, uncle Tom's cabin and this in either direction if you so wish. The feature trams may also make guest appearances in their own right throughout the summer on daytime tours.
12. Can you guarantee which trams will be operating on specific days?
A No, Blackpool transport cannot make such guarantees, entirely due to the unpredictable nature of operating vintage trams. All crimes are now getting on in years, (the oldest dates from 1901),and inevitably sometimes they don't want to get up for work in the mornings! This reason Blackpool transport never make any promises that they might not be able to keep.
If there are any further questions that have not been answered here please ask any member of Blackpool transport staff.
New Blackpool Tram System                                                                                                                                                                  Heritage Trams in Action